Last night I completed my own entry for the
Renaissance Cook Challenge
. I had originally planned to base each course of the meal on a cherished piece from my own wardrobe, but then thought hey, why not spread a little love and plug some dynamite style bloggers instead?
The appetizer course was based on
this post
by Jessica Schroeder of
What I Wore
. Jessica's style appeals to me because, well... she IS me. She's in her mid-twenties (check), loves vintage clothing (check), believes that personal style should not be wholly governed by trends (check- check), and believes that one need not be uber-wealthy to be uber-classy (check-check-double-check). She suggested I invent "something spicy" based on the outfit pictured. I was happy to oblige, as it's one of my favorite combos of hers.
Inspired by Jessica Schroeder
1 large tomato, cut in half
Salt, black pepper, and dried cayenne pepper to taste
Season the tomato halves and onion slices with salt, pepper, and cayenne. Peel the outer layer of skin from the garlic, leaving the cloves attached to the head. Arrange the tomato, onion, and garlic in a roasting pan and drizzle the olive oil over. Roast 30 minutes.
Remove pan from oven and allow to cool. Transfer the tomato and onion to a food processor or paddle blender. Add the pulp from the garlic cloves, discarding the skin. Add the lime juice, cilantro, and vinegar.
Pulse on medium speed about 3-5 times, or until the salsa has reached its desired chunkiness. Scrape the salsa into a container with a lid, seal tightly, and chill. I made mine a day in advance so that the flavors would have plenty of time to get to know one another, but a couple hours' chilling time would suffice. Serves 6-8 as an appetizer.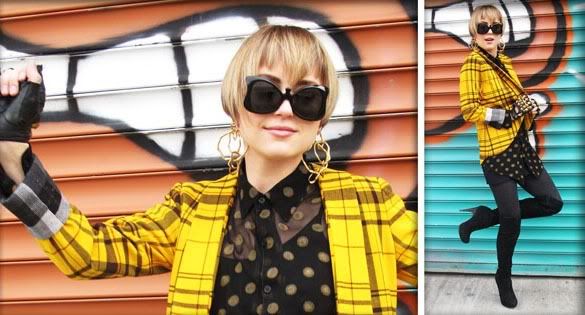 My entree took its color cues from
this "costume of the day"
posted by Kelly Framel, aka
The Glamourai.
When she's not working her day job as a stylist, Kelly breathes new life into vintage jewelry, which you can find for sale at
Shrimpton Couture
and
The Glamporium
. She did not have any special requests as far as what dish I made in honor of her, so I picked an outfit I loved and carried on with the Southwest-ish culinary theme.
Pork Loin Spirals With Corn and Black Beans
1 c. corn, fresh shucked or thawed frozen
1/4 c. olive oil, plus extra to baste
2 Tbsp. sherry vinegar, plus extra to de-glaze
1/4 tsp. salt, plus extra to season the meat
1/4 tsp. pepper, plus extra to season the meat
6 large garlic cloves, minced
Zest of 2 lemons, grated or minced
4 inches fresh ginger, grated
2 pork tenderloin fillets, weighing about 1 1/4 lbs each
1/2 c. Manchego cheese, diced small
Mix all ingredients except the pork loin and Manchego in a container with a lid. Store in the fridge to marinate for 8-48 hours, stirring periodically.
Around the same time you assemble the filling, cut into each pork loin lengthwise. Stop at least 1/4" short of cutting it in half. Make another incision from the center moving outward. Again, do not cut all the way through. Unfold. Each loin should now be about 4 times its original width.
Spread the meat on a hearty surface that can take a good pounding. Cover it in plastic wrap and bang it with a mallet until it's good and flat. Season with salt and pepper. Store in the fridge until ready to cook.
Saute the marinated filling over medium heat until the garlic grows soft and flavors the other components. Deglaze with additional sherry vinegar if necessary. This will take about 5-7 minutes, but if you were a chickenless cook, you would taste as you go ;)
Spread the pork flat in an oiled baking pan. Allow the filling to cool a few minutes, then divide it evenly between the two fillets and spread it over, leaving a border of 3/4" to 1". Sprinkle on the cheese. Roll the loins up lengthwise and secure with 6 or more pieces of kitchen twine each. Baste each loin with a bit of olive oil. Roast about 1 hour. Remove the twine and cut into rounds from top to bottom. Serves 6-8.
Dessert was inspired by
this frock
posted by Fleur de Guerre of
Diary of a Vintage Girl
. She, like Kelly, gave me free reign to choose from her oodles of fabulous photos. I imagine this one wouldn't have been her first pick; she's a self-described "part-time pinup girl and full-time Forties enthusiast," and this look is more 50s. But I'm sure she'll approve of the azure after-dinner cocktails I served in her honor.
Blue Hawaiian Pina Coladas
Inspired by Fleur de Guerre
Ingredients (Alcoholic Version)
6 oz. unsweetened coconut milk
1 c. fresh pineapple chunks
1 1/2 Tbsp. sugar or simple syrup
Ingredients (Kid-Friendly Version)
6 oz. unsweetened coconut milk
1 c. fresh pineapple chunks
2 Tbsp. sugar or simple syrup
A few drops blue food coloring
Place all ingredients in a blender and run on high until smooth. Serves 4 (or 2 double-tall as pictured).
Thanks to everyone who participated in this challenge! If you haven't participated yet and you live on my side of the globe, it's not too late. Your time isn't up until the day is over...
Beat the eggs. Whip the cream. Show no mercy.